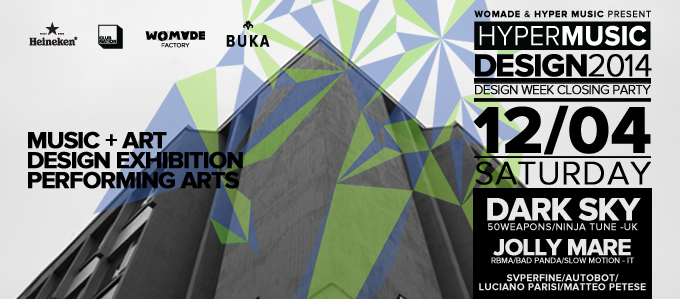 Eccoci di nuovo con l'evento dell'anno…
HYPER MUSIC DESIGN 2014
Design Week Closing Event
Un evento speciale per celebrare la Design Week 2014. Arte, musica, design e interattività allo spazio BUKA. WOMADE e HYPER MUSIC trasformeranno l'ex casa discografica abbandonata in un club fuori-luogo e temporaneo, un micro cosmo dove sperimentare e fare ricerca in ambito musicale ed artistico.
Dopo lo straordinario successo dell'edizione 2013 alla Fabbrica del Vapore, che ha coinvolto migliaia di curiosi, creativi e appassionati di musica, HYPER MUSIC DESIGN si è guadagnato il titolo di party di chiusura della Design Week.
WOMADE e HYPER MUSIC uniscono così di nuovo le forze per dare la propria interpretazione di club del futuro dove la contaminazione tra creatività e musica plasmerà uno spazio ibrido.
Lo spettatore sarà trasportato in uno "labirinto" dove vivrà un'esperienza scandita da live performance, installazioni, video e dj set.
A rendere questo evento davvero speciale è l'attesissimo dj set di Dark Sky, trio londinese che ha fatto della ricerca e dell'originalità musicale un pretesto per far parlare gli addetti a lavori internazionali; il live sarà un mix di house, dnb, grime e hip – hop. E poi, Jolly Mare, promettente talento italiano, sbarcato alla Red Bull Music Academy di New York e in partenza per il Sònar di Barcellona.
Quando:
Milano Design Week 2014
sabato 12 aprile
10.30 pm – 5.00 am
Dove:
BUKA (Ex Casa Discografica C.G.D.)
via Quintiliano 40, Milano (Mecenate District)
MUSIC LINE UP 
DARK SKY – UK (50 Weapons, Naked Naked)
Tre ragazzi londinesi che si sono conosciuti al college. Un amore incondizionato per la ricerca musicale, la scoperta di nuovi mondi musicali, la rilettura del passato in chiave moderna. Dal 2008, hanno dato un contributo straordinario all'evoluzione della scena elettronica londinese. Lontani dalle mode passeggere, hanno viaggiato controcorrente al buio, attingendo da influenze provenienti da una vasta gamma di ritmi e suoni. In una sola parola? Experimental!
JOLLY MARE –  IT (Red Bull Music Academy)
All'estero è stato definito "New face of Italian Disco". Una definizione forse troppo riduttiva. Troppo riduttiva per la vastità di generi e riferimenti che mette in campo da produttore e dj. Troppo riduttiva viste le deviazioni e i colpi di scena stilistici che si diverte ad offrire. Campione IDA (International DJ Association) nel 2010, nell'ultimo anno ha pubblicato i suoi brani sulle etichette Slow Motion (DE), Bad Panda (IT) ed Itchy Pig (UK). Ha arricchito il suo curriculum con la partecipazione alla Red Bull Music Academy 2013 di New York e con una collaborazione importante, mischiando i suoi suoni con quelli del bassista Thundercat. È ormai presente nelle line up di festival di internazionali come Parklife, Tramlines e Sonar. ( 
https://it-it.facebook.com/jollymareofficial
)
SVPERFINE (WOMADE)
AUTOBOT (HYPER MUSIC)
LUCIANO PARISI (THE SIGN REC.)
MATTEO PETESE (THE SIGN REC.)
Visual Art
+ ART & DESIGN EXHIBITHION + PERFORMING ARTS
INFO/ TICKET
DISCOUNT TICKET RSVP LIST
– To secure your entrance for 5 EURO until 23:00
– To secure your entrance for 10 EURO from 23:00 TO 00:30
Send your NAME + SURNAME via Email to :rsvp@designweekparty.it
GENERAL ADMISSION AT THE DOOR : 12 EURO (NO RSVP)
INFO LINE
+39 339 52 37 022 (whatsapp is welcome)
ADDRESS
BUKA – Ex Casa Discografica C.G.D. / Via Quintiliano,40 – MILANO
PUBLIC TRANSPORT
from Piazza Duomo
Linea 27 – Stop – Via Mecenate/Via Maderna from Linate
Linea 73 – Stop – Mecenate
Join the event CLICK HERE!

—————
PARTNERS
POWERED by HEINEKEN