How did your sound has evolved from the very beginning till now?
Our sound will continue to evolve and progress. That is what GOOSE is all about. We always want to surprise ourselves and our fans. We have always been fans of bands like Air, Daft Punk, David Bowie,… artists who are not affraid to try something new. The motivation to write 'Bring it on' was to escape from home and play in as much clubs as possibile. We used the synthesizers with the attitude of a guitar. We distorted the sound, introduced a solid kick and most of the vocals were quite shouty.'Synrise' has some of the same ingredients, but this time we digged deeper soundwise. We were much more into writing a good track with beautiful melodies. It think we gave ourselves more creative freedom and approached music with more care. I can't imagine a song like 'Hunt' on our first album. I'm sure we would have loved too, but I guess we weren't ready for it back then. Having produced and mixed this album ourselves we really feel confident as a band and as producers.
How came the idea to have the cover of your album designed by Storm Thorgerson the same designer of Pink Floyd s dark side of the moon ?
Dave has been a Pink Floyd fan since he was little and one day in the studio during the mix, we started to talk about Storm. Dave went online, check out his website and a few minutes later Mickael send him a mail. A very naïve move, who knew he was going to be up for it?! So, yeah, we spoke, we had dinner, we spoke again a couple of weeks later and then he made a few designs. Didn't take long before we all agreed on the design. The cover breaths 'Synrise' for us. We're really proud about it.
Do you feel that Belgian scene is hot like before. Name some talented belgian newcomers:
Ex Aeroplane's half-Italian Stephan Fasano (The Magician) is making some really cool mixtapes and is releasing his first remixes. The Subs, a crazy bunch from Ghent, that make electro-techno-noisey dance music. Vermin twins, evil duo with a punk rock attitude on synthesizers. The living Islands, new signing on French Abracada label and recently reworked 'WORDS' in a tropical Doom remix. Mumbai science, new stream of talented young producers. Sound of stereo, taking over USA as we speak.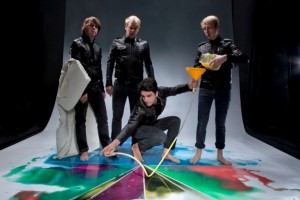 Do you ever DJ ?
We love to Dj. We often do sets after the live show at afterparties. For us it's a way to communicate with our fans, to introduce them to our world, our inspirations. And it's a very good excuse for not going to sleep!
Tell us 5 tracks you love
– Telex: Rendez-vous dans l'espace
– Les Rhytmes Digitales – Damaged People
– Duran Duran: Save a prayer
– la serrenisma
– Scissors sisters: Invisible Light (Boys Noize remix)
Which artists/bands are you mostly listening to right now?
Bach, ELO, Cassius Rawkers EP, The Beatles,